Immersion Experience
A great benefit of the online MLS program is the opportunity to expand on what you learn in the classroom at an in-person immersion on our Washington, D.C., campus. During the immersion, classmates and instructors come together for three days to network, hear from experts in the field, and collaborate on group assignments.
Students are responsible for travel to and from immersions, which includes but is not limited to transportation and hotel lodging. Program fees will be assessed for direct program expenses, and all immersion experiences carry 1.5 credit hours and the related tuition.
Connect with Classmates in Person
Exercise Your New Legal Skills
During the Immersion, You Will: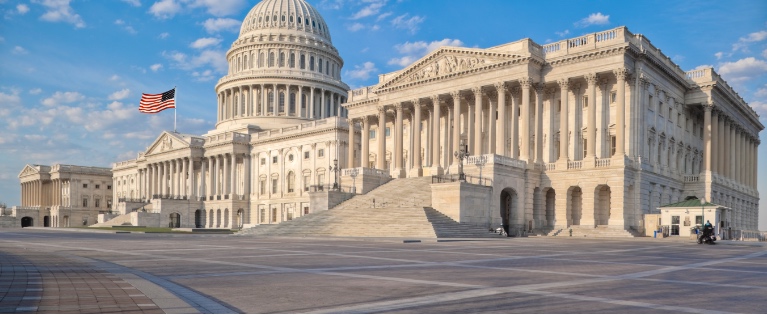 Immerse Yourself in the Nation's Legal Epicenter
Our Washington, D.C., location places you right at the intersection of law and business. During the immersion, you will have the chance to explore the AU campus, tour the Supreme Court, and gain exposure to resources unique to the nation's capital.

Participate in Hands-On Workshops
You will advance your presentation and negotiation skills in simulation exercises. Collaborative workshops provide you with the chance to gain experience applying the skills you learn in the online classroom to real-world scenarios.

Develop Valuable Connections
The connections you develop at the immersion can benefit your career long after graduation. You will strengthen your relationships with your classmates and learn from and network with faculty who are leading practitioners in Washington, D.C.
Sample Itinerary
The schedule below is an example of an immersion itinerary and is subject to change.
Day
Time
Event

Day 1

Evening

• Dean's Welcome
• Warm-Up Activities
• Reception

Day 2

Morning

• Breakfast
• Presentation Skills Workshop
• Group Work

Day 2

Afternoon

• Lunch
• Group Presentations
• Tour of Supreme Court

Day 2

Evening

• Group Outing in D.C.
• Class Dinner in D.C.

Day 3

Morning & Afternoon

• Negotiation Exercises with Clients
Online Learning Combined with In-Person Legal Exposure
Request information to learn more about the online MLS program and the immersion experience.